Updated 3/18 @ 1:00pm
Remind Class code: @hawkstrack if you have not signed up.
Important date reminders:
4/18 - Meet @ OHS report at 4p meet to begin at 4:30
4/23 - Pictures during practice after school. Must have uniform for pics
4/26 - Meet on 4/23 has been moved, due to a conflict with the HS soccer schedule, to 4/26 @ OHS report by 4p
5/3 - Meet at East Hamilton @ 4:00pm report by 3:30 NO SPIKES can be worn on the track at EH.
5/7 - County Meet Prelims @ RBHS
5/9 - County Meet Finals @ RBHS
More info to come on County Meet. Rain dates are 5/8, 5/10-11
Updated 3/20 @ 2:00pm
The online spirit store with Sports Spectrum will be open until 3/23 at 11:59pm. No orders will be allowed in store, online or by phone after this time/date. No items are required.
Store web address: https://sportsspectrum.itemorder.com
Sale Code: HUNTERTF18
Updated 3/19 @ 1:00pm
Practice for today is cancelled due to projected inclement weather
Parent meeting will be held tomorrow, 3/20, at 4pm immediately following practice
Updated 3/14/18 @ 6:00pm
Thank you to all students who attended track tryouts this year! If you did not make this years team please continue running and we will look forward to seeing you next spring at tryouts.
If your number is listed below there will be NO practice tomorrow, 3/15.
There will be practice on Monday 3/19 until 4pm. Immediately following practice there will be a MANDATORY parent meeting. There will be a $25 athletic participation fee that can be paid at the meeting or anytime next week. If inclement weather causes Monday's practice to be cancelled the parent meeting will be moved to Tuesday March 20th following practice.
The following students have made the track team for 2018
53, 57, 37, 55, 38, 35, 52, 34, 41, 30, 46, 43, 42, 51, 49, 31, 44, 36, 40, 47, 45
22, 1, 19, 10, 24, 21, 11, 18, 2, 25, 15, 6, 29, 9, 4, 16, 7, 25, 17, 13, 26
Updated 3/5/18 @ 8:45am
Tryouts begin 03-12-18 - meet in gym immediately after school.
Due to track, golf, and baseball tryouts starting at the same time no student will be allowed to tryout for track if they have already started tryouts for another sport.
Be prepared to be indoors or out. Running shoes and temperature appropriate clothing required.

Must bring a water bottle.

Physicals

must be dated 04-15-17 or later. If a current physical is already on file with the school there is no need to bring one before or on tryout day.

If no physical on file please try to turn in to Coach Bacon prior to 3/12.

Sudden Cardiac Arrest, Concussion, and Parent consent/emergency

form must be turned in prior to tryouts.

May not tryout without this form turned in/on file.

Forms must be turned on the correct color paper – forms are available for pick up in the main office.

Tryouts will end promptly at 4:30pm

Transportation is parent/student responsibility

Pick-up is at 4:30 please be on time
Updated 2/25/18 @ 9pm
Girls interest meeting will be held on Tuesday the 27th at 6:50am in the chorus room
Boys interest meeting will be held on Wednesday the 28th at 6:50am in the chorus room
Interest meetings are for students only.
Updated: 12/07/17 @ 10:30am
Tryouts will be held in March
**Interest meetings will be scheduled during February for both boys and girls. Dates will be posted here and placed on the school announcements.
***All forms and physical must be turned in PRIOR to tryouts.
FORMS: (All Forms are Available in Front Office)
- Physical Examination Form (white)
- Parent Consent Form (yellow)
- Cardiac Arrest Form (pink)
- Concussion Form (blue)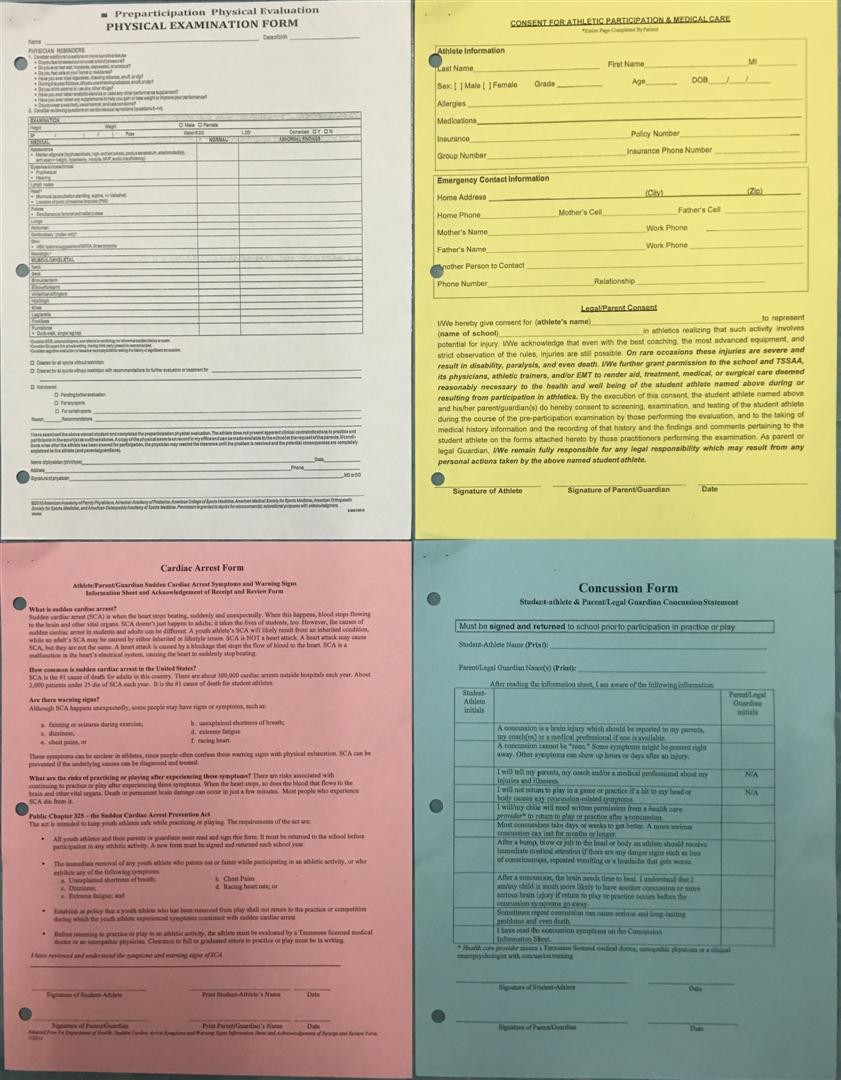 You must have the following 4 forms completed in order to tryout.
Physical Examination Form (Filled out by Physician)
Parent Consent Form (Filled out by Parent/Guardian and Student-Athlete)
Concussion Form (Filled out by Parent/Guardian and Student-Athlete)
Cardiac Arrest Form (Filled out by Parent/Guardian and Student-Athlete)